What's new
23/2/2017
A new resource from NZ Police is designed to help year 7/8 students to identify and prioritise action that will make the school environment safer. 
Safer Schools is a structured series of learning activities involving students, the school, and police that culminates in student-led recommendations and actions to improve the school environment.
You can download all the resources needed to implement Safer Schools from NZ Police's School Portal, or speak to your School Community Officer.
23/2/2017
The 2017 TeachNZ Kupe Scholarships for early childhood education, primary, and secondary teaching are now open, and close on Tuesday 7 March 2017.
You can download the 2017 application form and application guide from the TeachNZ website.
Video guides that offer you some key advice when completing your application are also available on the site.
21/2/2017
These self-paced modules from the Enabling e-Learning website can be used for personal or staff professional development.
Each module contains different activities that include questions for reflection.
These can be worked through individually or with your colleagues and are designed to be flexible.
Select the content that is relevant to you and your school from each of them.
10/2/2017
Throughout 2017 the Connected Learning Advisory is offering free professional learning opportunities for school leaders, teachers, and leaders of digital technologies to come together and explore ways to manage and plan how their school or Community of Learning (CoL) uses digital technologies for learning.
The workshops are free and will be held across the country. The first of these will be held on 14 and 16 March in Auckland and Tauranga.
For more information about workshops and registration go to this webpage.
7/2/2017
Netsafe and their educational partners have put together some ideas to help schools talk about staying safe online.
Staying Safe Online: A Quick Reference Guide is full of advice to help students, staff and whānau. It includes tips to help students safely use apps such as Instagram, Snapchat, Google, Facebook, and more.
Download the guide from NetSafe's website.
7/2/2017
The Ministry for Primary Industries (MPI) has developed a set of level 4 and 5 learning activities for mathematics, science, social studies, and technology with a specific focus on the New Zealand kiwifruit industry.
The industry snapshot gives an update on the kiwifruit industry and is suitable for all subject areas.
30/1/2017
This section of the nzmaths website has problem-solving lessons for levels 1 to 6.
The context of most problems can be adapted to suit your students and your current class inquiry.
It includes practical information about how to implement problem solving in your maths programme, and each lesson has a copymaster of the problem in English and in Māori. 
25/1/2017
The resources on this page from New Zealand Curriculum Online encourage you to consider how Waitangi Day can be celebrated with your students and the wider community, and how you can use the Treaty of Waitangi principle as a foundation of curriculum decision making at your school.
Waitangi Day provides an opportunity for students to examine the social sciences concepts of cultural identity, place and environment, and continuity and change.
It is also a useful context to explore values such as diversity, equity, and respect, and to develop key competencies such as thinking and participating and contributing.
17/1/2017
Cricket Smart is a free online resource from New Zealand Cricket for primary and intermediate students.
The resource uses cricket to support a range of learning areas within the New Zealand Curriculum. 
Resource materials, themes, and suggestions for teachers are available on the website.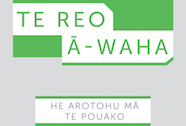 18/8/2016
He rauemi matihiko tēnei e taea ai e te kaiako te whakapakari i te reo ā-waha o te ākonga mā ngā ngohe reo ā-waha me ngā ngohe whakarongo. Mā ngā ākonga kei ngā taumata 1–4 o Te Marautanga o Aotearoa me ngā whakaakoranga rūmaki reo Māori taumata 1–2 tēnei rauemi. E toru ngā kōwae ako mā ngā taumata e toru: Tau 1–3, Tau 4–6, me te Tau 7–8. E rima ngā ngohe mā ia taumata.
This is an online, digital teachers' resource that aims to help students develop their oral language. It includes activities that focus on developing speaking and listening skills. This resource is intended for students at levels 1–4 of Te Marautanga o Aotearoa who are engaged in level 1–2 Māori language immersion education settings. The resource includes unit plans for three levels: Years 1–3, Years 4–6 and Years 7–8.