News of April 2020
14/4/2020
Do you need some help supporting your students with maths learning at home?
nzmaths has suggestions for students in years 1-10 including:
Maths at our house: Ideas on how to engage with maths using everyday experiences and resources found around your home
Weekly plans: Suggestions for structured weekly plans using the resources on nzmaths. Each session has activities that would take about 45 minutes.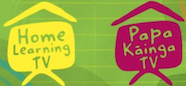 14/4/2020
Home Learning | Papa Kāinga TV starts education broadcasting for early learners and students (Years 1–10) from 9am on Wednesday April 15.
See programme schedule for ages groups on a typical day for Home Learning | Papa Kāinga TV .
Home Learning | Papa Kāinga TV is free to air, on TVNZ channel 2+1 and on TVNZ on Demand, as well as on Sky Channel 502.
Māori Television has also launched a series of te reo educational programmes (for ages 2 to 18).
Māori Television is broadcasting these programmes from 9am to 3pm on schooldays. Te reo content will focus on learning at home for tamariki, rangatahi and whānau, who are in kōhanga reo, puna reo, kura tuatahi and wharekura. It is tailored to specific age groups throughout the day, with learning content tamariki can do on their own, with their siblings, or together as a whānau.