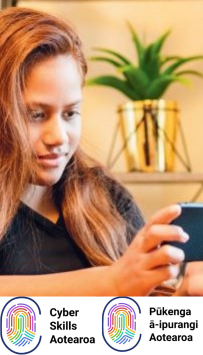 Cyber Skills Aotearoa - Term 2, 2023
Grok Academy and CORE Education have created Cyber Skills Aotearoa, a programme to help develop cybersecurity skills and dispositions in ākonga in Years 6-13. 
In Term 2 of 2023, Cyber Skills Aotearoa will release free online courses that will delve into cybersecurity topics in more detail. The courses and offline resources are available in both English and Te Reo Māori.
Personalise your TKI homepage.

Mātaiako he kaupapa hei hiki i te angitu o ngā ākonga mā te aromatawai i ngā kura.
Secondary Curriculum and NCEA

Secondary Education Portal on TKI
 Information, resources, and guidance, to support secondary teaching and learning.
Mātauranga Māori. Ngā rauemi me ngā kōrero e hāngai ana ki te ako mā te reo Māori.
Ngā Rauemi Reo Māori o nzmaths. Mā tēnei whārangi e uru atu ai koutou ki ngā kōwae ako, ki ngā rauemi o Te Poutama Tau, ki ētahi atu kaupapa pāngarau kua tuhia ki te reo Māori.  
Kia Mau He waiata, he haka hoki mō Te Hokowhitu-a-Tū, e hāngai ana ki ngā Taumata 6–8 o Tikanga ā-Iwi. 
Kei te mōhio anō koe? E hāngai ana tēnei paetukutuku ki ngā taumata 1–4 me ngā whenu katoa o Te Marautanga o Aotearoa: Pūtaiao.