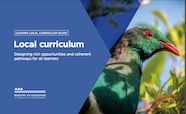 Local curriculum
This guide from the the Leading Local Curriculum Guide series focuses on the key elements of designing and reviewing your local curriculum.
It can also be used for ongoing review. 
Personalise your TKI homepage.

NZC Online offers information, resources, news, guidance, how to get support, research reports, practical ideas, inspiring school stories, and more.

Te Marautanga o Aotearoa ā-Ipurangi 
Mātaiako he kaupapa hei hiki i te angitu o ngā ākonga mā te aromatawai i ngā kura.

Assessment Online: Key aspects of assessment in the NZ Curriculum with emphasis on formative assessment.
Secondary Curriculum and NCEA

Secondary Education Portal on TKI
 Information, resources, and guidance, to support secondary teaching and learning.

Mātauranga Māori. Ngā rauemi me ngā kōrero e hāngai ana ki te ako mā te reo Māori.
Ngā Rauemi Reo Māori o nzmaths. Mā tēnei whārangi e uru atu ai koutou ki ngā kōwae ako, ki ngā rauemi o Te Poutama Tau, ki ētahi atu kaupapa pāngarau kua tuhia ki te reo Māori.  
Hītori Māori - Ngā mahi whakaari a te Māori
Kia Mau. He waiata, he haka hoki mō Te Hokowhitu-a-Tū, e hāngai ana ki ngā Taumata 6–8 o Tikanga ā-Iwi. 
Kei te mōhio anō koe? E hāngai ana tēnei paetukutuku ki ngā taumata 1–4 me ngā whenu katoa o Te Marautanga o Aotearoa: Pūtaiao. 

Pasifika Online. Information, resources, & research on what works for Pasifika students to inform teaching practice.
Enabling e-Learning brings together information, resources, and communities to support school leaders and teachers to develop their e-learning practice.