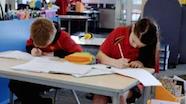 Innovative learning environments
These stories demonstrate how students, teachers and school leaders have planned for, collaborated on, and developed innovative learning environments. 
Personalise your TKI homepage.

NZC Online offers news, information, research, resources, guidance, ideas, inspiring stories and more.

Te Marautanga o Aotearoa ā-Ipurangi 
Mātaiako he kaupapa hei hiki i te angitu o ngā ākonga mā te aromatawai i ngā kura.

Secondary Curriculum and NCEA

Secondary Education Portal on TKI
 Information, resources, and guidance, to support secondary teaching and learning.

Mātauranga Māori. Ngā rauemi me ngā kōrero e hāngai ana ki te ako mā te reo Māori.
Mā te Pouako. He aratohu tuihono mā ngā pouako.
Papakupu Pūtaiao. He whakaputanga tuihono tēnei o te pukapuka kupu pūtaiao e kīia nei ko Te Reo Pūtaiao.
Ngā Rauemi Reo Māori o nzmaths. Mā tēnei whārangi e uru atu ai koutou ki ngā kōwae ako, ki ngā rauemi o Te Poutama Tau, ki ētahi atu kaupapa pāngarau kua tuhia ki te reo Māori. 
Kia Mau. He waiata, he haka hoki mō Te Hokowhitu-a-Tū, e hāngai ana ki ngā Taumata 6–8 o Tikanga ā-Iwi.
Karawhiua He kaupapa Tikanga ā-Iwi tēnei e hāngai ana ki ngā ākonga i ngā Taumata 5 me te 6 o Te Marautanga o Aotearoa. 
Kei te mōhio anō koe? E hāngai ana tēnei paetukutuku ki ngā taumata 1–4 me ngā whenu katoa o Te Marautanga o Aotearoa: Pūtaiao. 
Kura Taiao Four schools share their experiences of taking part in the Enviroschools project.

Enabling e-Learning brings together information, resources, and communities to support school leaders and teachers to develop their e-learning practice.