What's new
18/7/2014
A new section on NZC Online introduces international capabilities and explains their importance. It provides research, links to the NZC, and further resources to support and inspire. 
17/7/2014
ERO visited 40 secondary schools in 2013 and investigated how well they analysed and responded to their NCEA data. ERO looked for evidence that schools had identified student achievement issues and developed initiatives that improved learning. Find out more...
9/7/2014
See this page for ideas, resources, and tools to help schools get involved in Te wiki o te reo Māori / Māori language week, and support for schools to provide quality te reo Māori programmes year round. 
7/7/2014
The Creative Industries Vocational Pathway is now available. It is the sixth in a series of pathways designed to help students to better plan their studies and set themselves up for their future. They can use the pathways as a framework to help choose their subjects and also see how they relate to future job or career opportunities that interest them. Read about the Creative Industries pathway in this booklet and visit Youth Guarantee to find out more. 
2/7/2014
Registrations for workshops to support Overall Teacher Judgments are now open for both English and Māori medium schools and kura. 
Find out more...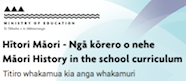 1/7/2014
A new website has materials to assist teachers with the implementation of Te Takanga o te Wā – Māori History in Aotearoa New Zealand: Teaching Guidelines for Years 1–4 (PDF 754 KB)
Although it is written for Years 1–4, there is material within the site that is appropriate for all levels. There are videos, learning activities, ideas, and teacher support materials that can be adapted to suit the needs and interests of students. Resources are available in te reo Māori and English.
30/6/2014
The Positive Behaviour for Learning (PB4L) School-Wide framework helps schools to develop a social culture that supports learning and positive behaviour. Find out about the key features of PB4L School-Wide and watch the introduction video to find out what PB4L School-Wide looks like in New Zealand schools.
27/6/2014
New resources have been added to NZTA's secondary collection. These integrate road safety as a context into several learning areas and are set at curriculum level 4 and above. 
27/6/2014
A level 1–2 resource that uses observation as the basis for learning about the properties and structure of matter. Students explore the characteristics of solids, liquids and gases through their observations of water in its different states. Simple hands-on activities use an inquiry approach to explore both the science concepts and the Nature of Science Investigating in Science strand.
24/6/2014
The Making Language and Learning Work DVDs are now online. They demonstrate how to effectively integrate content-area teaching and language learning in mainstream subject classrooms for students from diverse language backgrounds.