What's new
29/5/2018
Education should give every New Zealander the freedom and opportunity to be the best they can be. The National Certificates of Educational Achievement (NCEA) were introduced into secondary schools over 15 years ago, and are a widely respected qualification both in New Zealand and internationally.
This year, as part of the Education Conversation or Kōrero Mātauranga, New Zealanders have a powerful opportunity to explore ways to strengthen NCEA.
Earlier this year, the Minister of Education chose a group of independent and innovative leaders from a range of backgrounds to develop 6 "Big Opportunities" for how NCEA could be improved. These ideas are intended to provoke, inspire, and encourage healthy conversations about the future of NCEA.
Over the next few months the Government want to hear from you. They want anyone to have their say on how they experienced NCEA, and how it could be an even better qualification. What do you like about it and what do you dislike? What do you think about the 6 Big Opportunities?
It's really important that the thoughts and ideas of everyone are captured – parents, students, teachers, whānau, iwi, employers, youth groups, tertiary educators, community groups, and organisations. Everybody can have their say through a quick online survey.
Those who want to make a more detailed contribution can participate in workshops, focus groups, hui, fono, or complete a longer survey or make a written submission.
There's also a student voice NCEA "Make your Mark" competition for kids aged between 5–20 years old.
There are over $35,000 in prizes or grants up for grabs – #NCEAMakeYourMark.
Jump onto social media too, and start talking online – use the hashtags #NCEAReview, #NCEAHaveYourSay, #EdConvo18.
You can find out more about the big opportunities, and where, when, and how to get involved, and fill in the surveys by going to www.conversation.education.govt.nz/ncea.
Technology Online: Snapshots for Digital Technologies levels 6–8
20/3/2018
Technology Online has snapshots for computational thinking, and designing and developing digital technologies:
Computational thinking: Progress outcomes, exemplars, and snapshots
Designing and developing digital outcomes: Progress outcomes, exemplars, and snapshots
The snapshots illustrate the progress outcomes that span years 11–13 by highlighting aspects of students' expertise at that point on the learning progression.
2/2/2018
Write Our World is a new social enterprise that promotes multicultural literacy and global citizenship through ebook authoring with youth worldwide.
Students can read from and publish to an interactive library of ebooks created by students from all over the world.
Watch the video to find out more:
Write-Our-World-2016 (MP4 33MB)
You can sign up for the free trial at http://writeourworld.org/
10/10/2017
The Wellbeing@School student survey is now free of charge until December 2018. 
The Wellbeing@school survey has been designed to help schools identify how different aspects of school life contribute to a safe and caring environment that deters bullying. 
Gathering data also provides a baseline for monitoring outcomes over time. 
You can sign up for the free Wellbeing@School student survey and find out more about the toolkit here.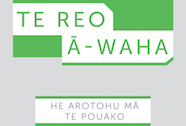 18/8/2016
He rauemi matihiko tēnei e taea ai e te kaiako te whakapakari i te reo ā-waha o te ākonga mā ngā ngohe reo ā-waha me ngā ngohe whakarongo. Mā ngā ākonga kei ngā taumata 1–4 o Te Marautanga o Aotearoa me ngā whakaakoranga rūmaki reo Māori taumata 1–2 tēnei rauemi. E toru ngā kōwae ako mā ngā taumata e toru: Tau 1–3, Tau 4–6, me te Tau 7–8. E rima ngā ngohe mā ia taumata.
This is an online, digital teachers' resource that aims to help students develop their oral language. It includes activities that focus on developing speaking and listening skills. This resource is intended for students at levels 1–4 of Te Marautanga o Aotearoa who are engaged in level 1–2 Māori language immersion education settings. The resource includes unit plans for three levels: Years 1–3, Years 4–6 and Years 7–8.