What's new
3/3/2020
These Ministry of Education resources provide specific strategies for supporting students with dyslexia in phonological awareness, reading, and writing. They include:
information about a pamphlet for parents
a link to the Māori medium resource for kaiako and whānau – Tīpaopao
other supporting information
3/3/2020
Redesigned learning modules aimed at improving knowledge and processes for planning Education Outside the Classroom experiences are now available on TKI's EOTC website.  .
The nine modules include information on staffing and preparing for emergencies, as well as legal responsibilities and codes of practice for taking students into the outdoors. 
The modules may be of particular interest to school leaders, EOTC co-ordinators and boards of trustees, and could be used to support EOTC-focused staff meetings, or when providing information for parents. 
17/2/2020
The Paekupu website holds dictionaries relating to the learning areas in Te Marautanga o Aotearoa.
In recent weeks, approximately 1200 hangarau matihiko words have been added, bringing the total number of headwords close to 9000.
Four papakupu have been completed for Te Marautanga o Aotearoa wāhanga ako to date, these are: Pāngarau, Pūtaiao, Ngā Toi and Te Reo Matatini. The three remaining wāhanga ako that require development are Hangarau Matihiko, Tikanga ā-Iwi and Hauora – work to complete these other strands is ongoing.
7/2/2020
This resource, intended to be used in staff/syndicate meetings or individually, aims to support teachers to deepen their understanding of assessment for learning principles and practices in their classrooms, with a particular emphasis on measuring, responding to, and reporting progress and achievement across the curriculum.
24/1/2020
A new report by @EducationRevNZ will help schools implement the new Digital Technologies and Hangarau Matihiko curriculum content. It highlights the enablers and barriers schools faced, and shows how leadership is critical to supporting change. Read more »
10/10/2017
The Wellbeing@School student survey is now free of charge until December 2018. 
The Wellbeing@school survey has been designed to help schools identify how different aspects of school life contribute to a safe and caring environment that deters bullying. 
Gathering data also provides a baseline for monitoring outcomes over time. 
You can sign up for the free Wellbeing@School student survey and find out more about the toolkit here.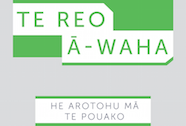 18/8/2016
He rauemi matihiko tēnei e taea ai e te kaiako te whakapakari i te reo ā-waha o te ākonga mā ngā ngohe reo ā-waha me ngā ngohe whakarongo. Mā ngā ākonga kei ngā taumata 1–4 o Te Marautanga o Aotearoa me ngā whakaakoranga rūmaki reo Māori taumata 1–2 tēnei rauemi. E toru ngā kōwae ako mā ngā taumata e toru: Tau 1–3, Tau 4–6, me te Tau 7–8. E rima ngā ngohe mā ia taumata.
This is an online, digital teachers' resource that aims to help students develop their oral language. It includes activities that focus on developing speaking and listening skills. This resource is intended for students at levels 1–4 of Te Marautanga o Aotearoa who are engaged in level 1–2 Māori language immersion education settings. The resource includes unit plans for three levels: Years 1–3, Years 4–6 and Years 7–8.