What's new
24/1/2020
A new report by @EducationRevNZ will help schools implement the new Digital Technologies and Hangarau Matihiko curriculum content. It highlights the enablers and barriers schools faced, and shows how leadership is critical to supporting change. Read more »
10/10/2017
The Wellbeing@School student survey is now free of charge until December 2018. 
The Wellbeing@school survey has been designed to help schools identify how different aspects of school life contribute to a safe and caring environment that deters bullying. 
Gathering data also provides a baseline for monitoring outcomes over time. 
You can sign up for the free Wellbeing@School student survey and find out more about the toolkit here.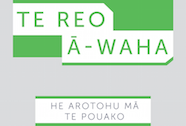 18/8/2016
He rauemi matihiko tēnei e taea ai e te kaiako te whakapakari i te reo ā-waha o te ākonga mā ngā ngohe reo ā-waha me ngā ngohe whakarongo. Mā ngā ākonga kei ngā taumata 1–4 o Te Marautanga o Aotearoa me ngā whakaakoranga rūmaki reo Māori taumata 1–2 tēnei rauemi. E toru ngā kōwae ako mā ngā taumata e toru: Tau 1–3, Tau 4–6, me te Tau 7–8. E rima ngā ngohe mā ia taumata.
This is an online, digital teachers' resource that aims to help students develop their oral language. It includes activities that focus on developing speaking and listening skills. This resource is intended for students at levels 1–4 of Te Marautanga o Aotearoa who are engaged in level 1–2 Māori language immersion education settings. The resource includes unit plans for three levels: Years 1–3, Years 4–6 and Years 7–8.