What's new
14/4/2020
Do you need some help supporting your students with maths learning at home?
nzmaths has suggestions for students in years 1-10 including:
Maths at our house: Ideas on how to engage with maths using everyday experiences and resources found around your home
Weekly plans: Suggestions for structured weekly plans using the resources on nzmaths. Each session has activities that would take about 45 minutes.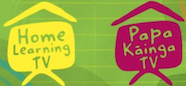 14/4/2020
Home Learning | Papa Kāinga TV starts education broadcasting for early learners and students (Years 1–10) from 9am on Wednesday April 15.
See programme schedule for ages groups on a typical day for Home Learning | Papa Kāinga TV .
Home Learning | Papa Kāinga TV is free to air, on TVNZ channel 2+1 and on TVNZ on Demand, as well as on Sky Channel 502.
Māori Television has also launched a series of te reo educational programmes (for ages 2 to 18).
Māori Television is broadcasting these programmes from 9am to 3pm on schooldays. Te reo content will focus on learning at home for tamariki, rangatahi and whānau, who are in kōhanga reo, puna reo, kura tuatahi and wharekura. It is tailored to specific age groups throughout the day, with learning content tamariki can do on their own, with their siblings, or together as a whānau.
14/4/2020
The first wave of Kauhaurangi Tuihono/Online webinars is happening on a device near you starting 15th April. 
Go to ahikaroa.kiatakatu.ac.nz to see what's on offer.
The Kauhaurangi Tuihono are:
designed to support teachers and kaiako to integrate Digital Technologies and Hangarau Matihiko into their teaching online 
no more than 30 minutes long
limited to 20 people giving ample opportunity to discuss and explore resources. 
The webinars won't be recorded, but will be offered several times to give people more opportunity to attend a session. Resources will be made available online.
7/4/2020
Earth Day is a global event where people honour the natural environment and raise awareness of environmental issues that trouble the world.
This year marks 50 years of Earth Day, and the theme is climate action.
This page from NZ Curriculum Online is a portal of resources and stories that support both Earth Day, and education for sustainability throughout the school year.

24/3/2020
The Ministry of Education's Learning from home website has advice and resources for parents and whānau, teachers and leaders that spans early learning through to senior secondary to support learning at home.
More resources will be added in the coming days and weeks.
The resources include activities that parents can use with their children and young people alongside what teachers provide.
The resources will also support teachers to plan activities for children and young people to work on from home.
The resources are sorted into age groups and year levels to help you find things that you can use or adapt for your children's learning.
Take home kits will also be provided and you will be advised how to access these when they are available.
Refer to the website's menu to access information for Getting Ready, Wellbeing and Supporting Learning.
If your tamaiti is learning Te Reo Māori or you would like resources in Te Reo Māori, visit the Kauwhata Reo website.
If your child or young person is engaged in NCEA this year, you can also visit the NZQA website for more information.

19/3/2020
The Ministry of Education has a regularly updated webpage with information and advice about COVID-19 for students, whānau, and the education sector. 
16/3/2020
One year on from the Christchurch terror attacks many communities and schools will pause and reflect on what happened to remember those who were lost and those who continue to be affected to this day.
There are a number of resources that support safe, welcoming, and inclusive environments for all students, while celebrating the diversity of our nation.
Additionally they can support students to appreciate the diverse cultures, ethnicities, nationalities, and languages which comprise New Zealand. 
Resources are available from this page of NZ Curriculum Online.
16/3/2020
The Ministry of Education is  seeking feedback on the advance copy of this guide, part of the Leading Local Curriculum Guide series released in early 2019.
The series takes users through the change in the technology learning area along with the high-impact practices to help design and implement this learning in a school curriculum.
If there are areas that you feel need improving, please email your ideas by 31 March 2020 to digi.tech@education.govt.nz
16/3/2020
The new Digital Technologies implementation support tool is a resource to help you with teaching the revised technology learning area.
The tool provides a model and process of steps to follow to take you from not yet started, through to leading and innovating.
You can find the support tool on the Technology Online website along with the complementary guide. 
3/3/2020
These Ministry of Education resources provide specific strategies for supporting students with dyslexia in phonological awareness, reading, and writing. They include:
information about a pamphlet for parents
a link to the Māori medium resource for kaiako and whānau – Tīpaopao
other supporting information