What's new
31/5/2017
The Ministries of Health and Education together with Sport New Zealand have released new Physical Activity Guidelines for children and young people (five to 17 years). The new guidelines include recommendations for sleep.
This article from Education Gazette looks at what schools could consider doing to support children getting sufficient sleep, and how else they could support the guidelines.
More information, and a link to download the guidelines, can be found on the Ministry of Health website
31/3/2017
Game of Awesome is a card game aimed at inspiring New Zealand students to write.
It was  developed with a specific focus on suitability for boys in years 5–8 using boys of that age to create the material. 
You can hear more about Game of Awesome in this RNZ interview.
You can order copies of the resource for your school from Down The Back Of The Chair.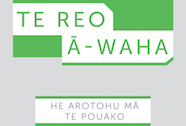 18/8/2016
He rauemi matihiko tēnei e taea ai e te kaiako te whakapakari i te reo ā-waha o te ākonga mā ngā ngohe reo ā-waha me ngā ngohe whakarongo. Mā ngā ākonga kei ngā taumata 1–4 o Te Marautanga o Aotearoa me ngā whakaakoranga rūmaki reo Māori taumata 1–2 tēnei rauemi. E toru ngā kōwae ako mā ngā taumata e toru: Tau 1–3, Tau 4–6, me te Tau 7–8. E rima ngā ngohe mā ia taumata.
This is an online, digital teachers' resource that aims to help students develop their oral language. It includes activities that focus on developing speaking and listening skills. This resource is intended for students at levels 1–4 of Te Marautanga o Aotearoa who are engaged in level 1–2 Māori language immersion education settings. The resource includes unit plans for three levels: Years 1–3, Years 4–6 and Years 7–8.