What's new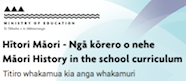 1/7/2014
A new website has materials to assist teachers with the implementation of Te Takanga o te Wā – Māori History in Aotearoa New Zealand: Teaching Guidelines for Years 1–4 (PDF 754 KB)
Although it is written for Years 1–4, there is material within the site that is appropriate for all levels. There are videos, learning activities, ideas, and teacher support materials that can be adapted to suit the needs and interests of students. Resources are available in te reo Māori and English.
30/6/2014
The Positive Behaviour for Learning (PB4L) School-Wide framework helps schools to develop a social culture that supports learning and positive behaviour. Find out about the key features of PB4L School-Wide and watch the introduction video to find out what PB4L School-Wide looks like in New Zealand schools.
27/6/2014
New resources have been added to NZTA's secondary collection. These integrate road safety as a context into several learning areas and are set at curriculum level 4 and above. 
27/6/2014
A level 1–2 resource that uses observation as the basis for learning about the properties and structure of matter. Students explore the characteristics of solids, liquids and gases through their observations of water in its different states. Simple hands-on activities use an inquiry approach to explore both the science concepts and the Nature of Science Investigating in Science strand.
24/6/2014
The Making Language and Learning Work DVDs are now online. They demonstrate how to effectively integrate content-area teaching and language learning in mainstream subject classrooms for students from diverse language backgrounds. 
20/6/2014
By celebrating Matariki with your students and the wider community you can bring the principles of The New Zealand Curriculum to life, especially community engagement, cultural diversity, the Treaty of Waitangi, and inclusion. At NZC Online you can find a rich collection of digital and print resources to help you celebrate Matariki with your schools and communities.
20/6/2014
From now on the School Journal and School Journal Story Library are available in digital form as well as in print. See Literacy Online for the latest journal stories, articles, poems, and more.
17/6/2014
These online resources introduce students to the work of Parliament and explore concepts of democracy, representation, and leadership. They include primary and secondary teacher guides, discussion topics, activities, and links to the New Zealand Curriculum.
16/6/2014
From 4:30–5:30 pm on Tuesday 17 June, you can take part in a public online question and answer session on the Government's Investing in Educational Success initiative. The initiative will support the creation of Communities of Schools as a way of strengthening collaboration between principals, teachers, and schools in order to raise student achievement.
The question and answer session will be hosted by Dr Graham Stoop, the Ministry of Education's Deputy Secretary responsible for Investing in Educational Success.
This will build on a previous question and answer session, which is still available to view at https://crowdhall.com/h/233/#/h/233/
Find out how you can take part at education.govt.nz
12/6/2014
The Elsie Locke Writing Prize, for original writing by students in years 7 and 8, commemorates Elsie Locke's life, both as a writer and as a person who was concerned about peace, the environment, women's issues, and community. The winner receives $250 together with a commemorative bookplate and certificate, and the story is published in a School Journal.  
Entries need to arrive by Monday, 4 August 2014.
Full details are available in the PDF to download: Elsie Locke (PDF 82KB)